A unique synthesis of music, visual art, creativity, pedagogy and performance !
Knowledge and experience in service of  a new vision of musical transmission.
A Visual Music Show employs musical and visual means in order to instruct, amuse, inspire and stimulate creativity in students of all ages … and renew the public of tomorrow !
VisualMusicShow, like  Piccolo Opera, may be included in the pedagogical offerings that accompany an engagement of Paul Hess as conductor of your opera, ballet production or concert.
What Paul Hess does…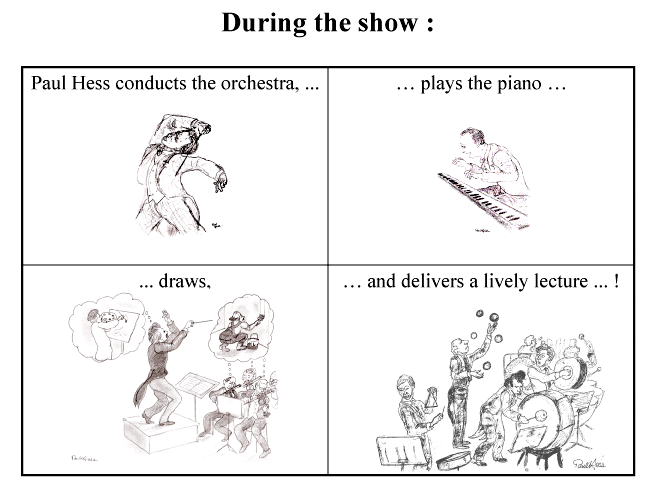 On Stage: He presents the work…
Visually: These live-created drawings are projected onto a large screen !
Musically: He conducts the orchestra and plays musical excerpts at the piano…
Pictorially: He draws while talking in order to illustrate the characters …
The show is simultaneously: a lesson, a creative event, a spontaneous demonstration of visual and musical artistic unity.
Paul Hess personifies this artistic unity and it's realisation, representing an accessible example of creativity throughout the pedagogical journey.
Stimulates discovery and creativity…
Download Visual Music Show outline here
Technical Parameters
Required materials :
Sound system on stage (microphones, orchestra, piano,…)
Overhead projector
Giant screen
Remote-controlled slide projector
Piano (baby grand to concert grand)
Onstage: orchestra, chairs, music stands, stage technician
Orchestral material
Conductor's podium
Conductor's music stand
Past Experience
Since 2003, Paul Hess was invited to conduct the Orchestra del Teatro Comunale di Bologna to great acclaim, and to present his lectures in such repertoire as …
« Pictures at an Exhibition » – Mussorgski-Ravel
« La Cenerentola » – Rossini
« Master Peter's Puppet Show » – De Falla
« La Bella dormente nel bosco » – Respighi
« Peter and the Wolf » – Prokofiev
Further questions and bookings